Using remote sensing and numerical modelling to quantify a turbidity discharge event in Lake Garda
Nicola Ghirardi | nicola.ghirardi93@gmail.com

Institute for Electromagnetic Sensing of the Environment, National Research Council, Milan , Italy.

https://orcid.org/0000-0002-5006-9853

Marina Amadori

Institute for Electromagnetic Sensing of the Environment, National Research Council, Milan , Italy.

https://orcid.org/0000-0001-8810-8478

Gary Free

Institute for Electromagnetic Sensing of the Environment, National Research Council, Milan , Italy.

Lorenzo Giovannini

Department of Civil, Environmental and Mechanical Engineering (DICAM), University of Trento, Italy.

https://orcid.org/0000-0003-1650-0344

Marco Toffolon

Department of Civil, Environmental and Mechanical Engineering (DICAM), University of Trento, Italy.

https://orcid.org/0000-0001-6825-7070

Claudia Giardino

Institute for Electromagnetic Sensing of the Environment, National Research Council, Milan , Italy.

Mariano Bresciani

Institute for Electromagnetic Sensing of the Environment, National Research Council, Milan , Italy.

https://orcid.org/0000-0002-7185-8464
Abstract
We investigate the effect of the Adige-Garda spillway opening on the 03/03/2020 on Lake Garda using numerical modelling and maps of Suspended Particulate Matter (SPM) concentration. SPM maps are obtained from Sentinel-2 images processed using the BOMBER bio-optical model. Three satellite images are examined: 28/02/2020, 04/03/2020 and 07/03/2020. Maps indicate a significant increase in SPM concentrations, especially in the northern part of the lake close to the hydraulic tunnel outlet. Results are consistent with the modelled flow field. Remote sensing effectively captures the event's spatial and temporal variation, while numerical modelling explains and corroborates the observed patterns.
Downloads
Download data is not yet available.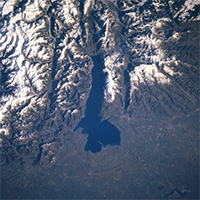 Info
Section
Short Communication
Edited By
Diego Fontaneto, CNR IRSA, Verbania, Italy
Keywords:
Adige-Garda spillway, SPM concentration, water quality monitoring, Sentinel-2, WRF Delft3D, atmosphere-lake simulation
Statistics
Abstract views:

1133



PDF:

93
How to Cite
1.
Ghirardi N, Amadori M, Free G, Giovannini L, Toffolon M, Giardino C, Bresciani M. Using remote sensing and numerical modelling to quantify a turbidity discharge event in Lake Garda. J Limnol [Internet]. 2020Oct.1 [cited 2021Feb.27];80(1). Available from: https://www.jlimnol.it/index.php/jlimnol/article/view/jlimnol.2020.1981
Copyright (c) 2020 The Author(s)
This work is licensed under a Creative Commons Attribution-NonCommercial 4.0 International License.